Services Available
Referrals
There may be times when a clinician decides to refer a patient to another service for further tests
At present, waiting times for certain services can be quite lengthy. The practice does not have access to individual waiting times, however we do understand that patients may want to know how long the referral time is.
Please find below the telephone numbers for different outpatient services in our area:
​NBT General Outpatients (Cossham, Southmead): 0300 555 0103
NBT Radiology: 0300 300 0089
UHB General Outpatients (Bristol Children's Hospital, St Michael's Hospital, Bristol Royal Infirmary, Bristol Haematology & Oncology): 0117 342 6888
Smear Tests / Cervical Screening
Cervical screening, also known as a smear test, is a procedure which tests for high risk human papillomavirus (HPV).
We invite all eligible women and people with a cervix, between the ages of 25 and 64 to have a test. The first screening invitation is usually sent in advance of your birthday to ensure you are screened by the age of 25.  Follow up invitations are sent in accordance with the national screening programme. It is really important that you keep us updated with any address or telephone changes so invitations and subsequent results are sent to the right place.  
Please note that patients can only book into an appointment if they have received an invitation.
We recogonise and respect that taking part in screening is your personal choice. Please tell us if you have decided to opt out of the cervical screening programme so that we can code your records accordingly. You can choose to reverse this at any time if you change your mind. 
Although the test is quick, relatively simple and key to detecting cancer early, we appreciate that many patients don't find it easy. We have introduced the following steps which we hope will help
Before Your Appointment
Many patients' prefer the convenience of booking appointments online, however we recommend calling to make your appointment if:
You have any questions about your cervical screening appointment
You would benefit from an interpreter. We can book translation services for you
You would like a chaperone. You are welcome to bring someone with you into the appointment or you can request one of our trained chaperones
You feel that you need a longer appointment. Speak with one of our receptionists, you don't have to provide too much information, and they will do their best to accommodate you
During The Appointment
We understand you may feel anxious when you arrive for your smear test, our trained Nurses will do their best to put you at ease. You will be given privacy to change and we will give you something to cover yourself with - you can of course bring something from home to cover you. The appointment is confidential and the nurse will lock the door whilst she takes the sample, however you can ask for the door to remain unlocked if this is what you prefer. The following suggestions may help when you attend your appointment:
You may feel more comfortable wearing a skirt or long top 
Feel free to discuss any concerns or ask any questions. Our Nurses are highly trained, experienced sample takers, no question is too big or small, and they will do their best to give you all the information you need
Please ask if you would like to look at the equipment that is used to take the sample
Feel free to listen to music or a podcast whilst the sample is taken
Please tell the Nurse if you have a preferred position to be in when she takes the sample
Do tell the Nurse if you are uncomfortable or in pain at anytime
Please do not feel you need to rush when getting off the couch. You are welcome to lie down until you feel ok to get up. Let the Nurse know if you feel a little shaky or would like a glass of water
Results
Your Nurse will give you an approximate time as to when you can expect to receive your results. Occasionally, there can be a delay due to an increase in the number of tests that need to be processed. The test results will be sent by letter to your home address. 
​Please visit Jo's Cervical Cancer Trust further, detailed information on cervical screening. 
Veteran Friendly Practice
We are an Armed Forces veteran friendly accredited GP practice.
This means that, as part of the health commitments of the Armed Forces Covenant, we have a dedicated clinician who has a specialist knowledge of military related health conditions and veteran specific health services. This is important in helping ex-forces to get the best care and treatment. 
If you are ex-forces, please let your GP know to help ensure you are getting the best possible care.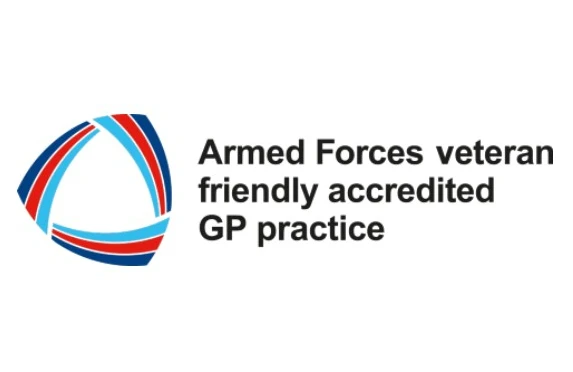 We use cookies to help provide you with the best possible online experience.
By using this site, you agree that we may store and access cookies on your device. Cookie policy. Cookie settings.
Functional Cookies
Functional Cookies are enabled by default at all times so that we can save your preferences for cookie settings and ensure site works and delivers best experience.
3rd Party Cookies
This website uses Google Analytics to collect anonymous information such as the number of visitors to the site, and the most popular pages.
Keeping this cookie enabled helps us to improve our website.